APRU Multi-Hazard Symposium in Bangkok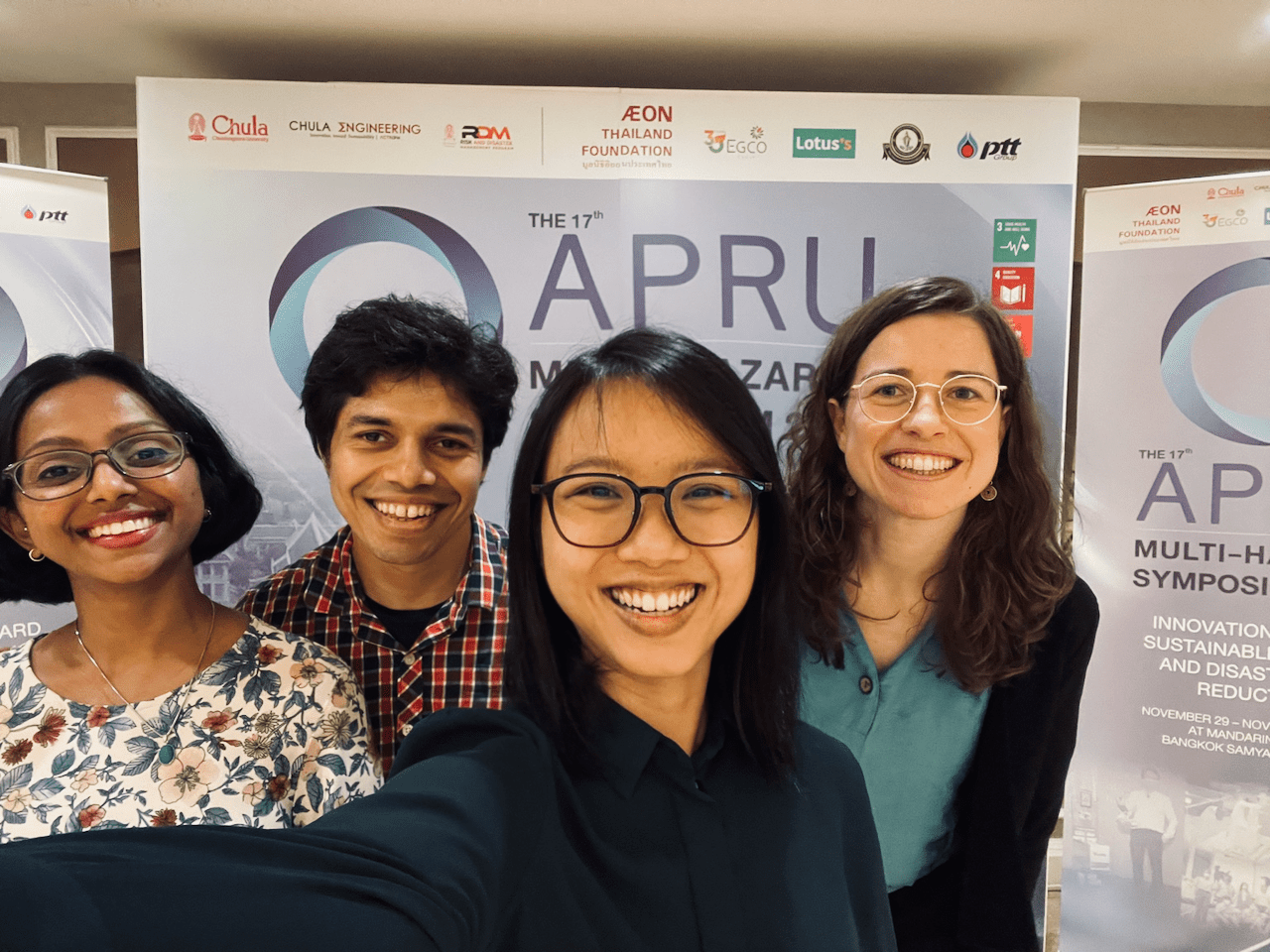 Four DASL members attended the 17th APRU Multi-Hazard Symposium at the end of November in Bangkok, Thailand. The topic of the conference was "Innovation Towards Sustainable Growth and Disaster Risk Reduction."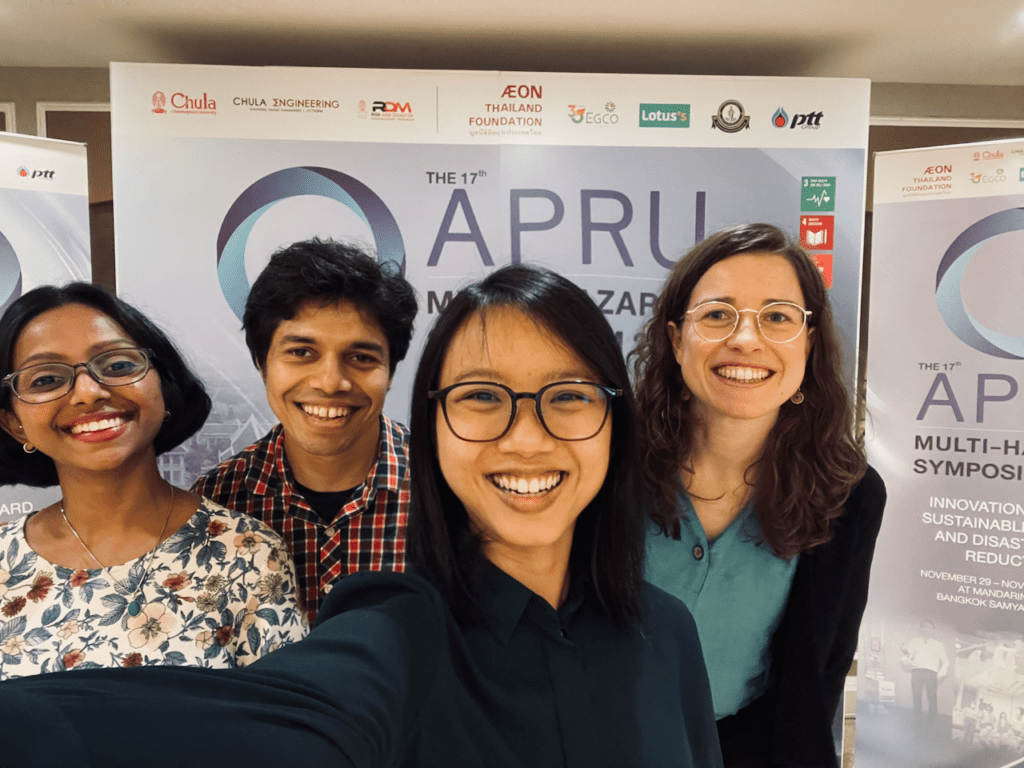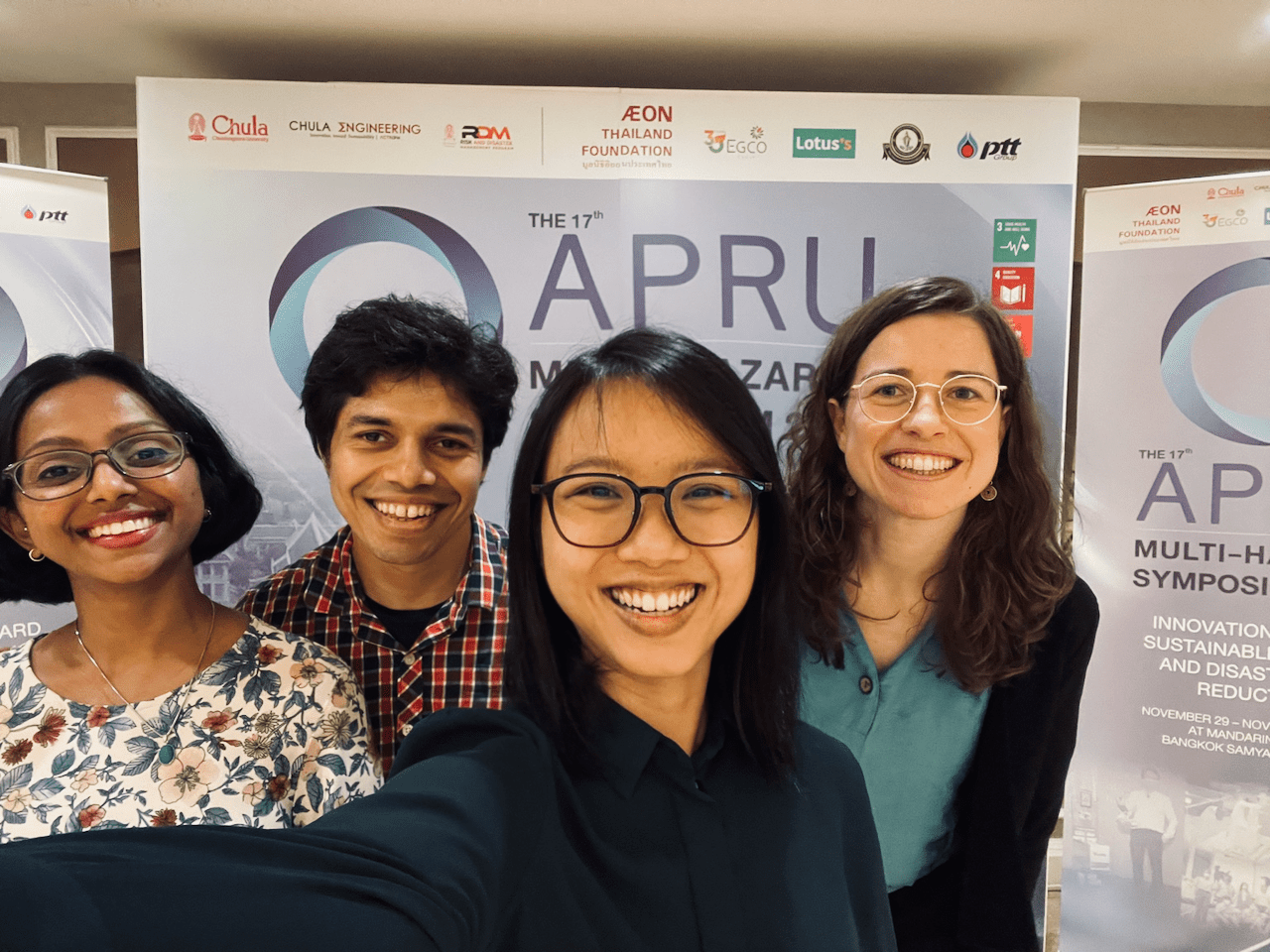 What is APRU?
The Association of Pacific Rim Universities (APRU) is a network of 61 universities from 19 economies of the Pacific Rim. It brings together researchers and policymakers from the Americas, Asia, and Australasia to exchange ideas and develop solutions to the challenges of the 21st century. The objective of the network is to translate research into international public policy making. APRU aims to provide a platform for high-level policy dialogue, enhance climate action, and support diversity, inclusion, and minorities. The network has chosen a range of focus areas, in which it facilitates exchange among students and faculty: disaster risk reduction, women in leadership, indigenous knowledge, sustainable cities, artificial intelligence, population aging, global health, waste management, and more.
What did DASL present at APRU?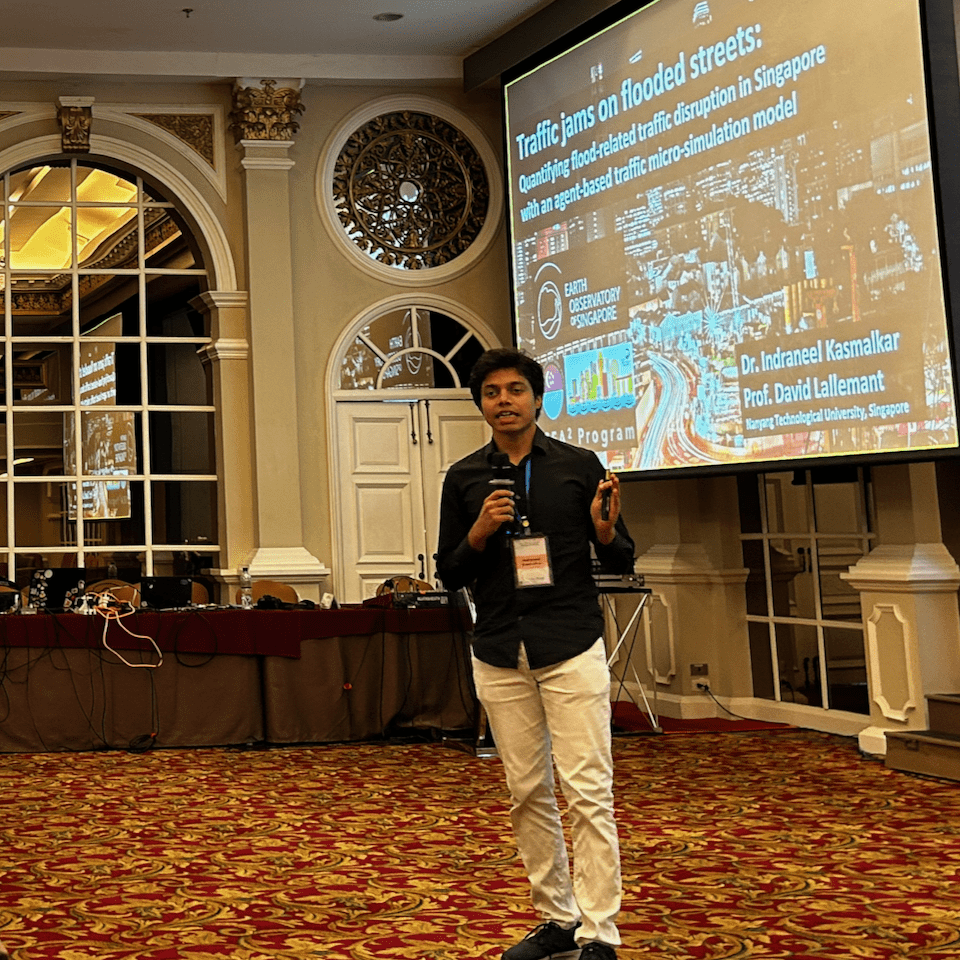 Neel presented a simulation of traffic jams on flooded streets in Singapore. His agent-based traffic micro-simulation model can quantify delays of vehicles due to flood-related traffic disruptions. The model can be used to identify hotspots of flood-related traffic disruptions and help urban planners to reduce the risk of disruptions in these hotspots.
Sonali gave an overview of her work on drivers and pathways of climate change-induced human migration in Southeast Asia.  
Jeanette convinced the jury with her poster on non-asset based disaster loss models, which highlights the need to quantify the distributional impacts of disasters on different groups of people. Her poster was awarded with the best student poster. Congrats, Jeanette! 
What did you learn about urban resilience in Bangkok? 
The Deputy Governor of Bangkok, Assoc. Prof. Tavida Kamolvej, explained how the Bangkok Development Plan will enhance urban resilience. Recognizing that data for research was lacking, Bangkok recently set up an open-source database to enhance the exchange of data across sectors: https://data.bangkok.go.th/. The city is currently conducting a district-level urban risk assessment, which includes multi-hazard mapping and vulnerability mapping activities. One key achievement in improving urban flood risk preparedness was the development of a real-time flood reporting platform for downtown Bangkok, the Deputy Governor reported.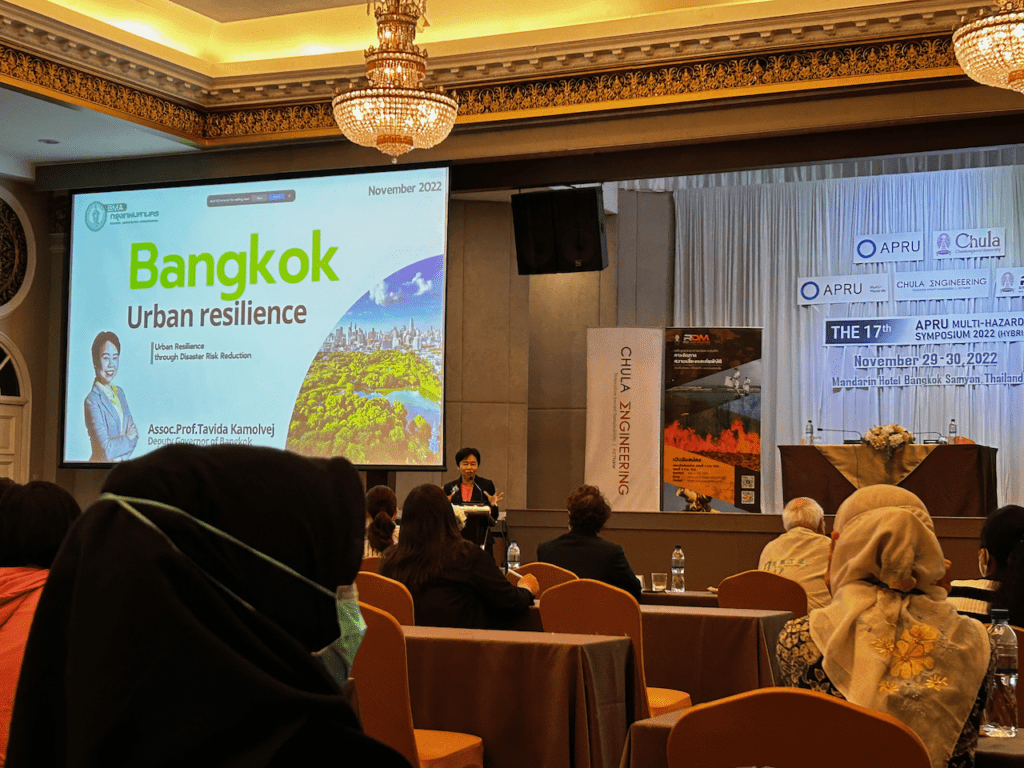 Residents living near the Chao Phraya River told us that they had experienced serious flooding earlier this year. In Si Phraya, a neighborhood near the river, we saw flood resilience measures like elevated floors and barriers that prevent the water from entering the building.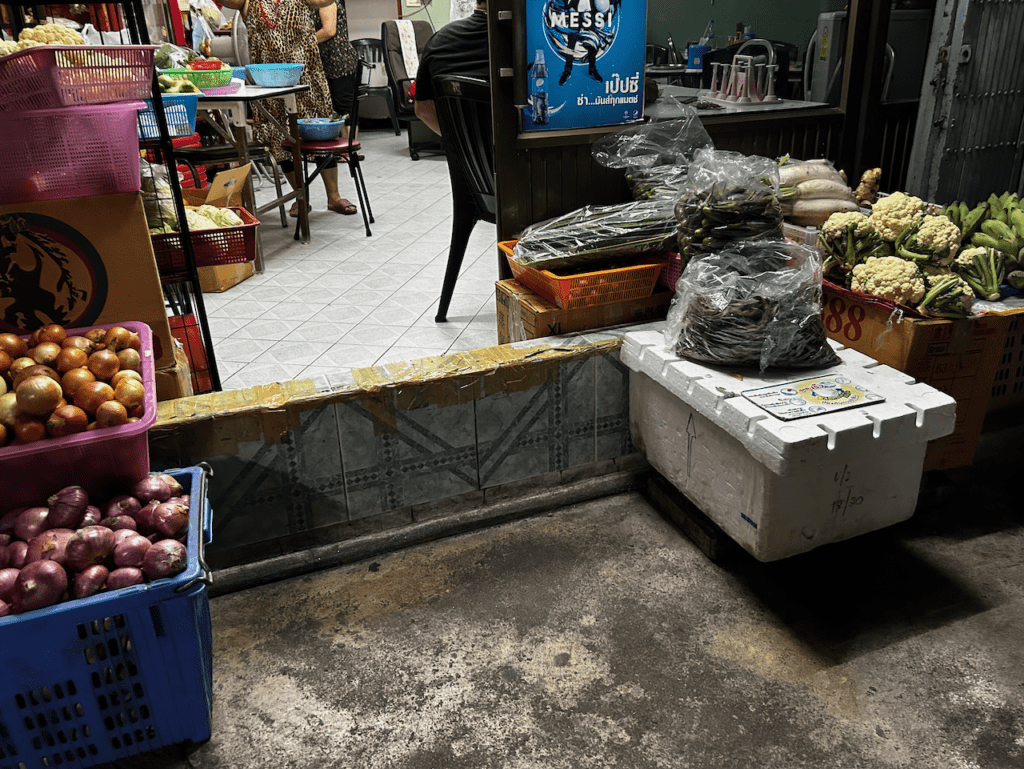 In her presentation, the Deputy Governor of Bangkok highlighted that the risk of fire is particularly high in Bangkok's densely populated neighborhoods, where fires can spread quickly, given the small space between buildings, while it is impossible for fire-fighting vehicles to pass through the small streets. She emphasized the role of volunteers in the city's urban risk management strategy. Volunteers cannot only quickly report about incidents in an application, they can also be quickly activated to respond.
Just a few days after the symposium, a fire erupted in a narrow street in Talat Noi, a densely populated neighborhood that is home to ethnic Chinese communities. The smoke hung in the air, as professional and voluntary fire fighters hurried to the building on fire. While the streets filled with firefighters in large fire trucks, pickup fire engines, and on motorbikes, residents in the area were informed about the fire by word of mouth. Thanks to the fast reaction of the fire brigade, the fire could be controlled within 20 minutes and the damage was limited to three buildings, nobody was injured.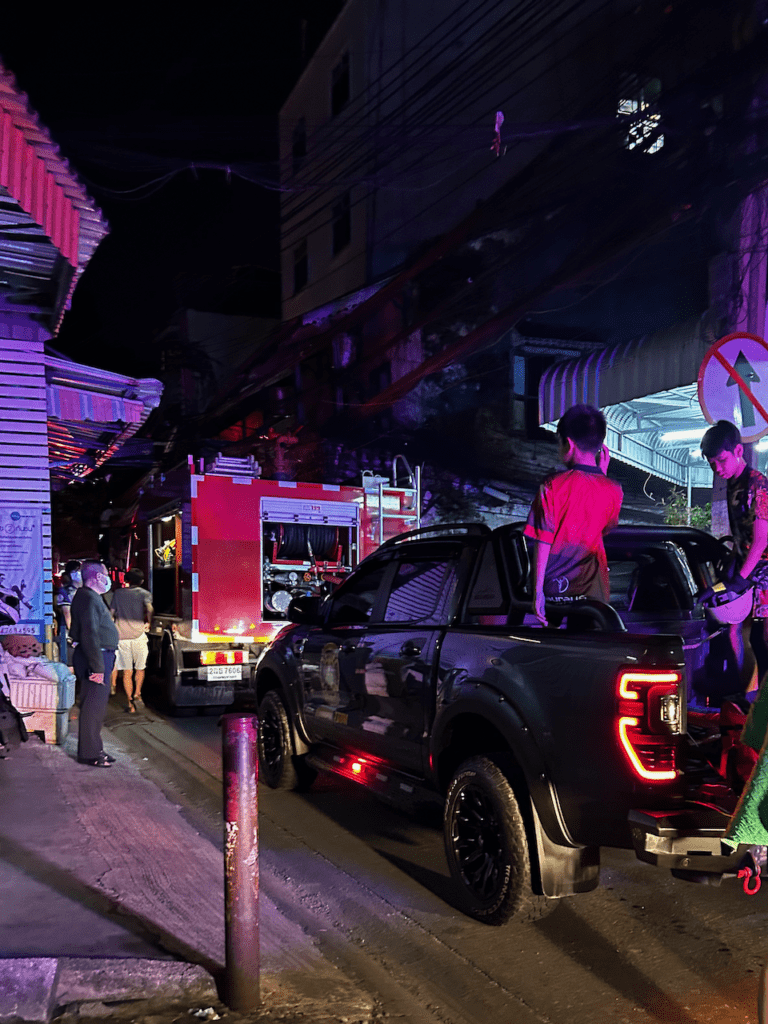 While our research focuses on other hazards such as flooding, robust early warning systems are similarly crucial to enable a quick response, ultimately protecting people and assets. Further, considering low probability, but highly damaging disasters allows policy-makers and urban planners to set up systems that can prevent disasters even in locations where the vulnerability is high.
A big thanks to David Lallemant for supporting us in participating in this year's APRU Multi-Hazard Symposium. We are looking forward to seeing how the city of Bangkok will continue to put its Urban Resilience Strategy into practice in the future.